Still Wearing A Camel Coat? It's Time To Change Your Classy Coat In Spring 2020!
---
Black gray camel, a color that cannot be separated in winter. After the Spring Festival, the weather is getting warmer and there is always a feeling of changing colors. There are many choices of overcoats in this spring, which not only makes the skin whiter, but also makes it more suitable to match the soft sweater and skirt in spring.
---
Different shades of blue color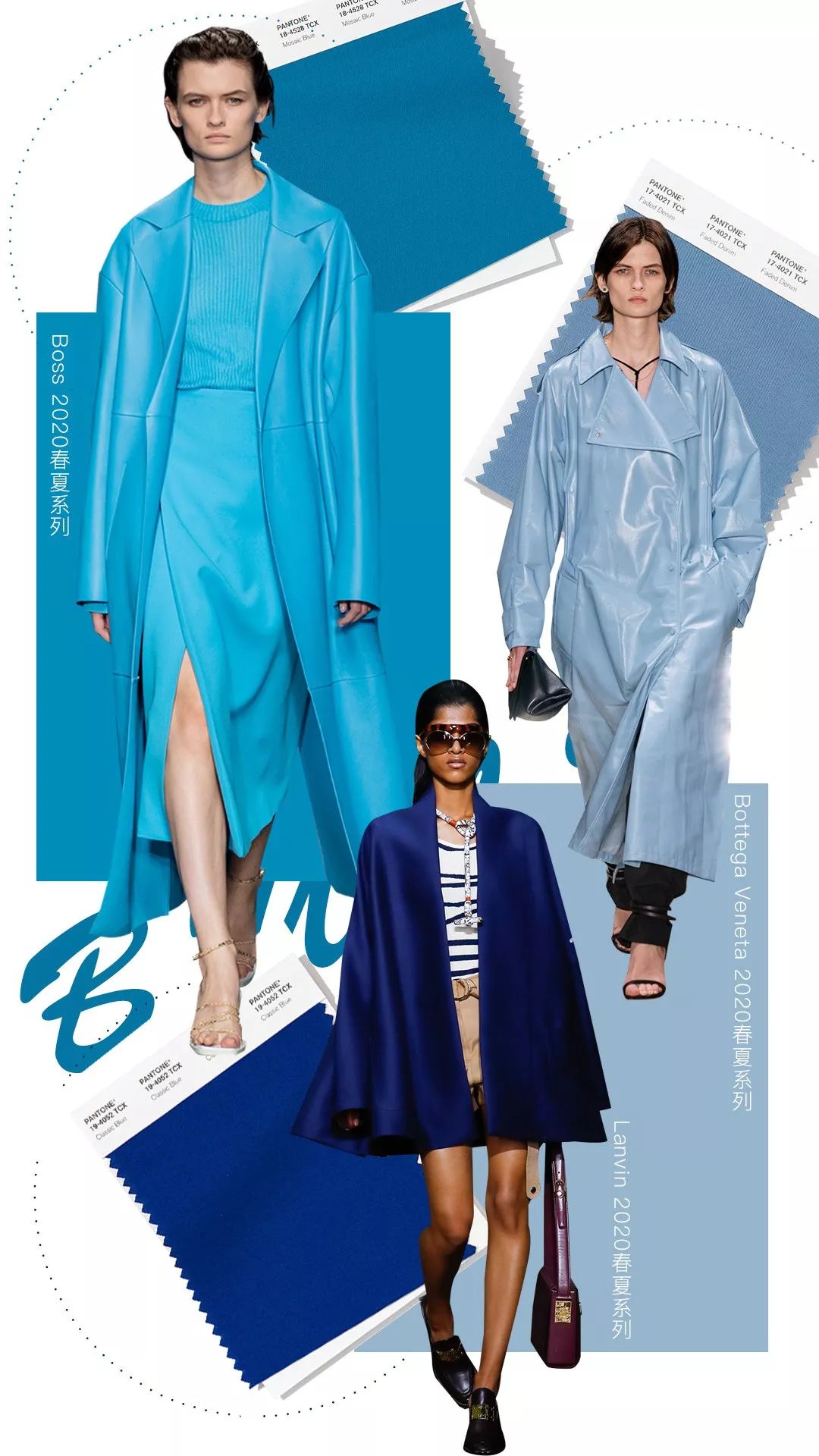 Among the popular colors released by Pantone this year, Blue takes up the majority. Whether it is classic blue, Mosaic Blue or faded tannin blue, they are all very popular. Blue is expected to be popular for a whole year in 2020, which may be the best "alternative color" for your coat ".

"It gives us a solid and reliable foundation and inspires us to recall the vast night sky ." Pantone described "classic blue" like this. It is not as difficult to wear into daily life as usual popular color. On the contrary, it is the best color to control.

The fashion charm of "Mosaic Blue" is no less than "classic Blue". It has its own noble temperament, which can not only match various color combinations, but also has its own style.
Like other neutral tones, it has enough aura to Hold the big scene. Princess Kate often chose a long coat of this color when attending formal occasions.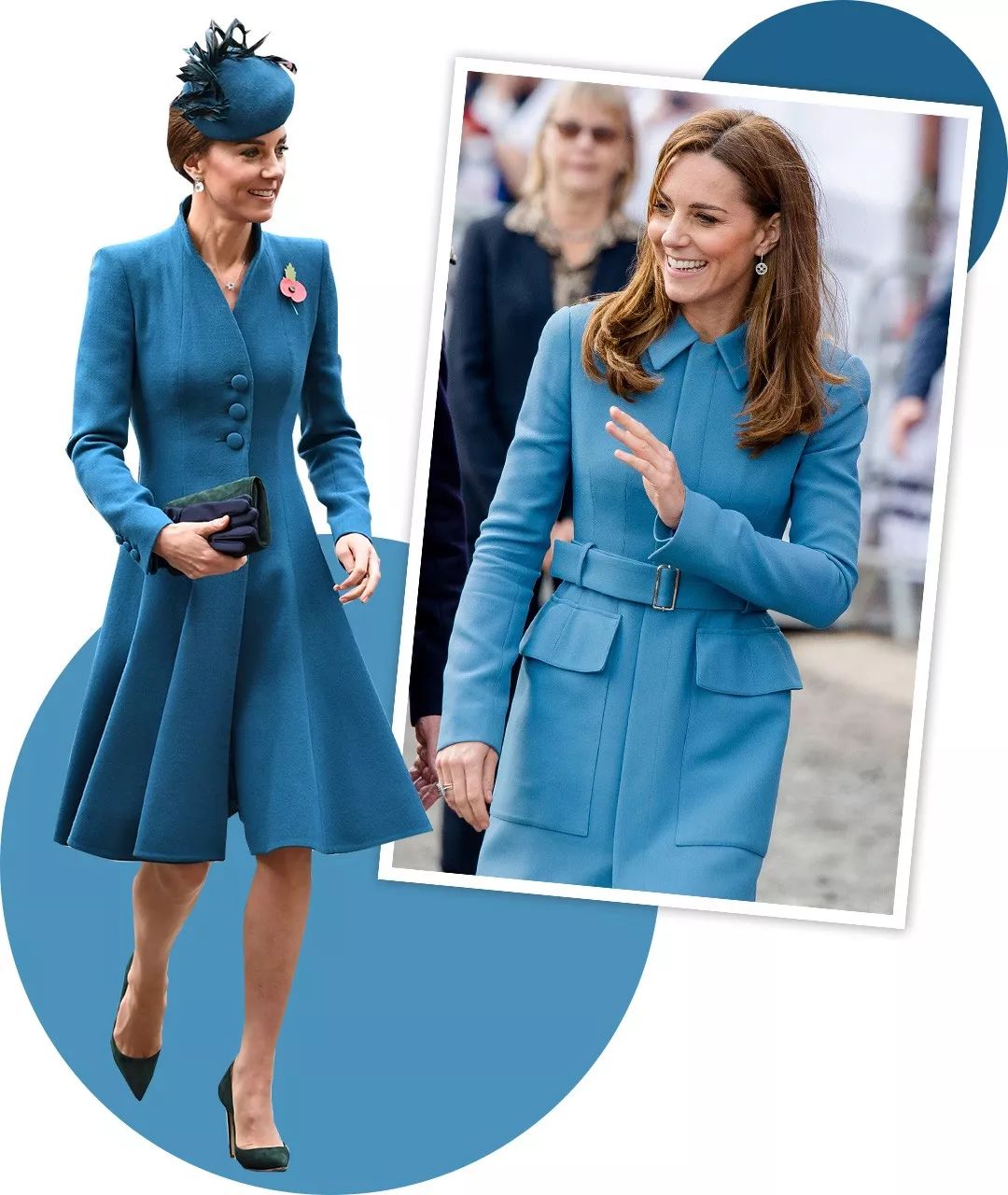 "Faded tannin Blue" has a little more gray tone, which is more quiet and more elegant. In order not to destroy its original beauty, it can be matched with the same color suit like Karlie Kloss, with simple profile and excellent tailoring, which makes it easy to wear the high-level sense of silent.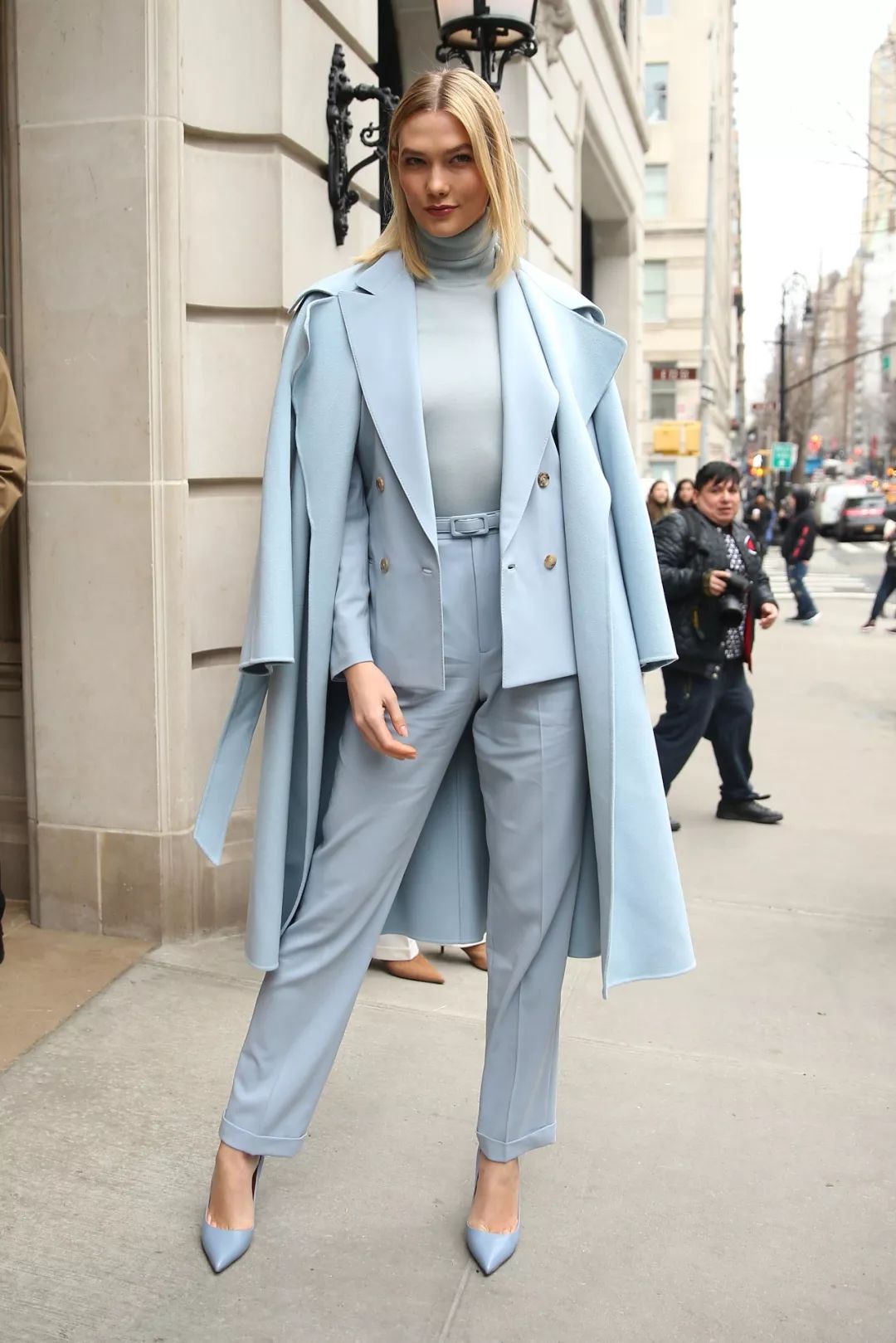 Such a peaceful and quiet color matches the elegant lacing coat very well. Although the style is ordinary, once it is matched with light blue, you will feel totally different immediately, girls with white skin can have a try.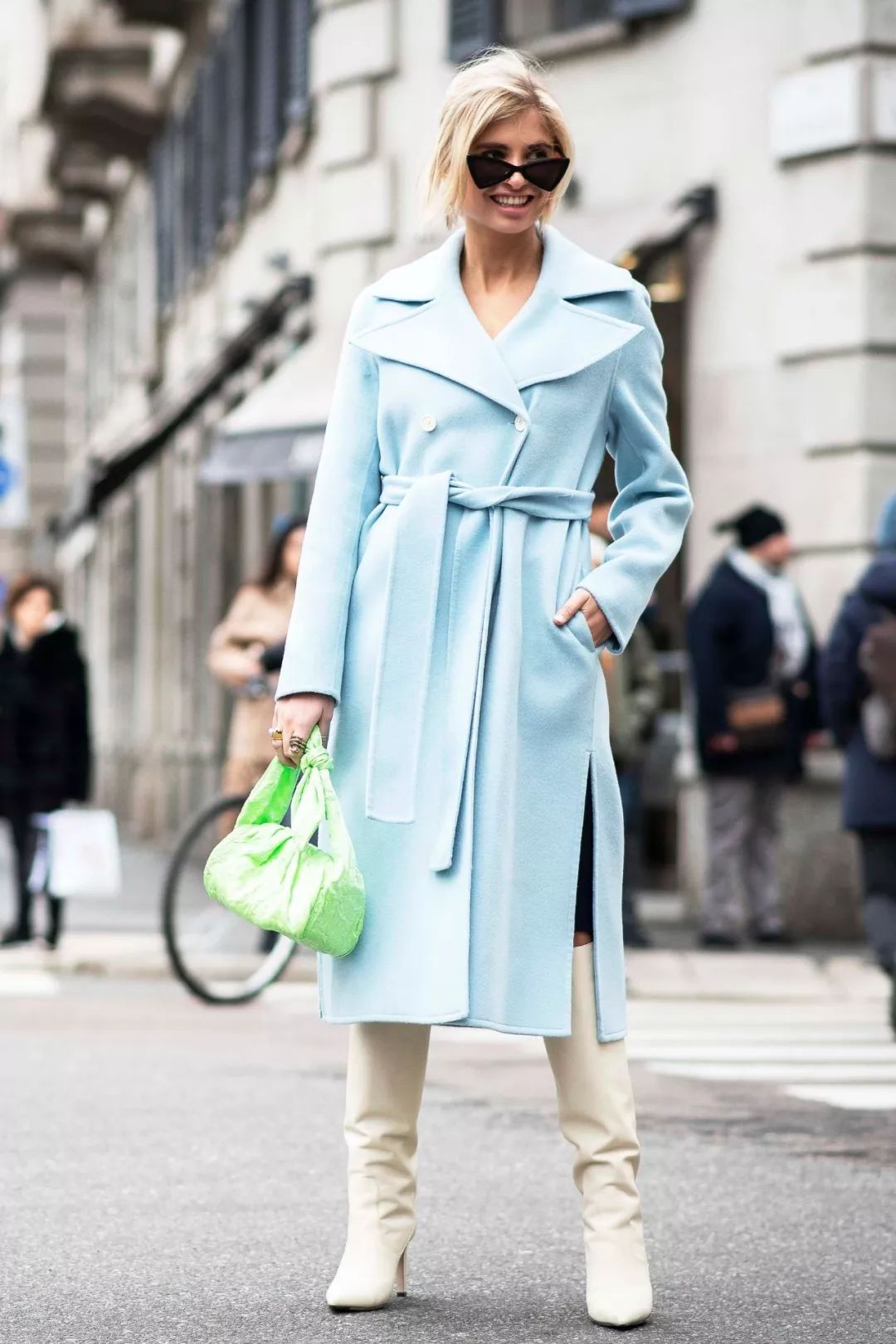 Many people will choose to match light blue overcoats with clean white sweaters. However, yellow is the right way to open light blue among many colors. Let's take a look at the demonstration brought by fashion editor Jeanette Friis Madsen, harmonious color matching has risen from pure beauty to artistic level.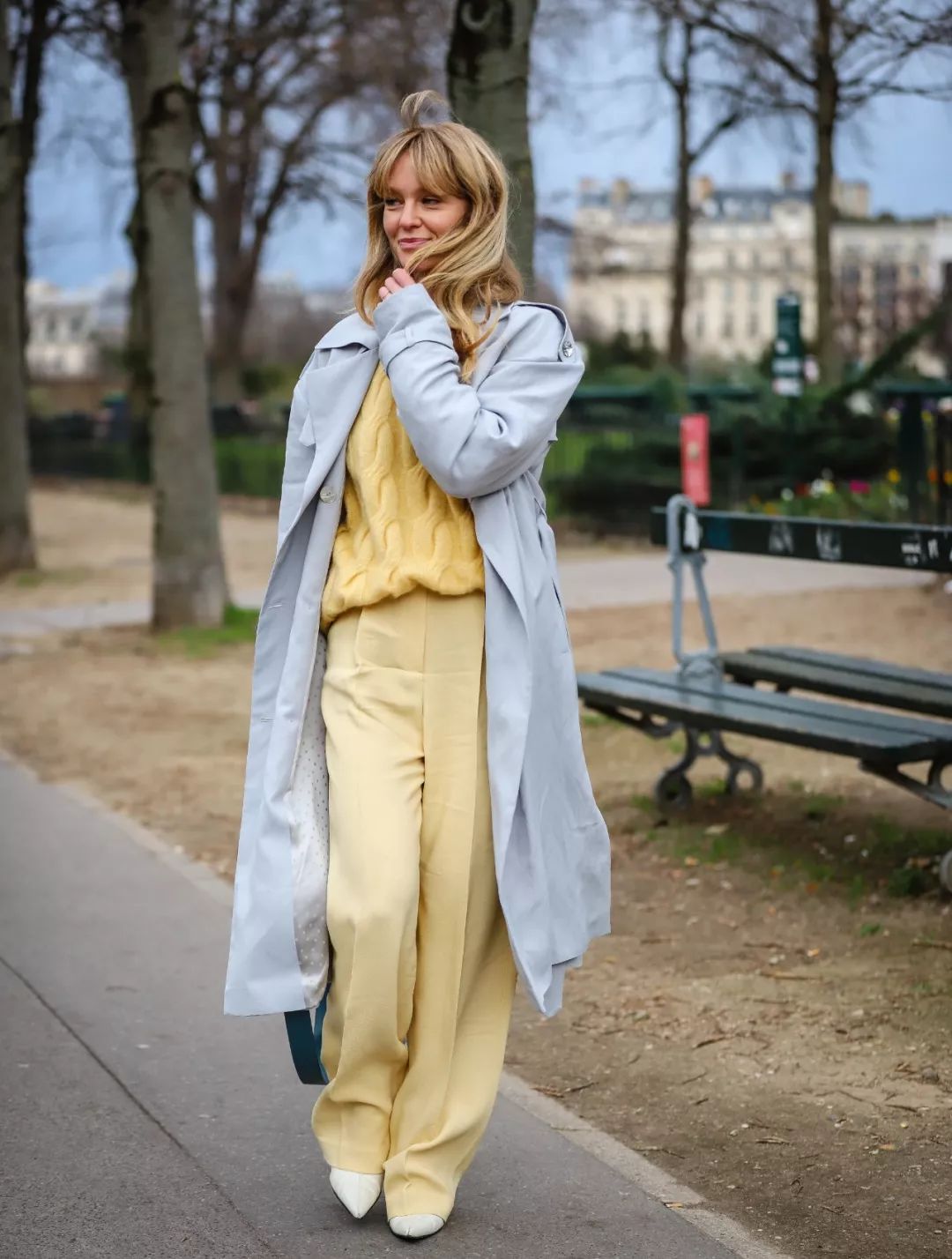 Do you want to wear a new style? Blue colors of different materials can be matched together to set off each other and inspire each other's charm.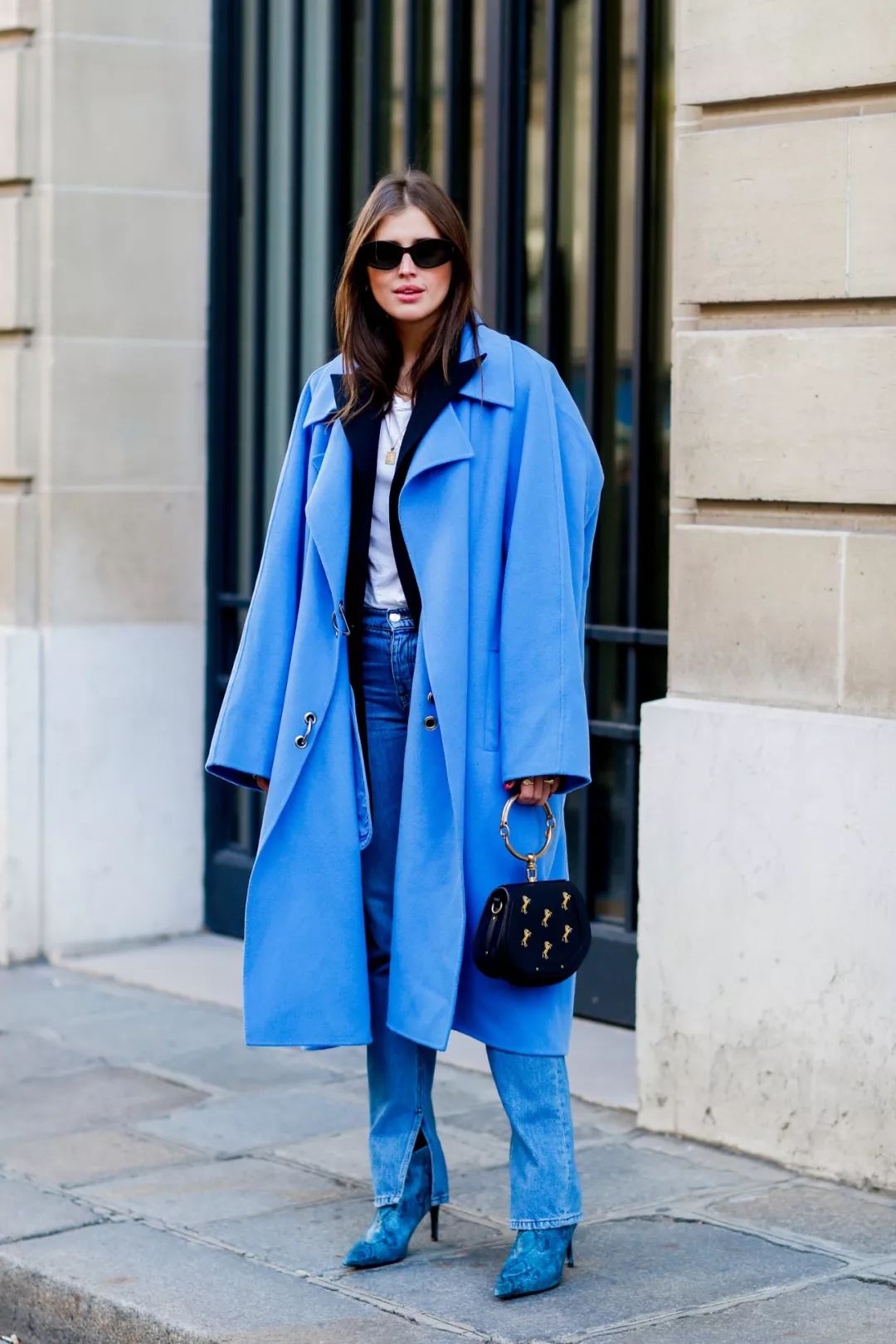 ---
Tough army green
Army Green belongs to neutral color, just like the black, white and gray we are familiar with, which is suitable for most people to wear. Let's first look at the Army green overcoat in the fashion week show.
In the Loewe 2019 autumn and winter series, designer Jonathan Anderson released three military green overcoats at one go, no matter the material of the hanging windbreaker or the solid wool blend material, they all endowed the Army with a strong aura of green, tough and calm.
Elegant and mature working women are more inclined to buy cashmere materials. After all, overcoats are not consumables. Of course, the more classic and durable they are, the better.
Some girls don't have a cold for the soft style, but love the neutral and handsome dress. They are still the same army green overcoats, matched with wide-legged leather pants and casual sports shoes, which can bring a straightforward side.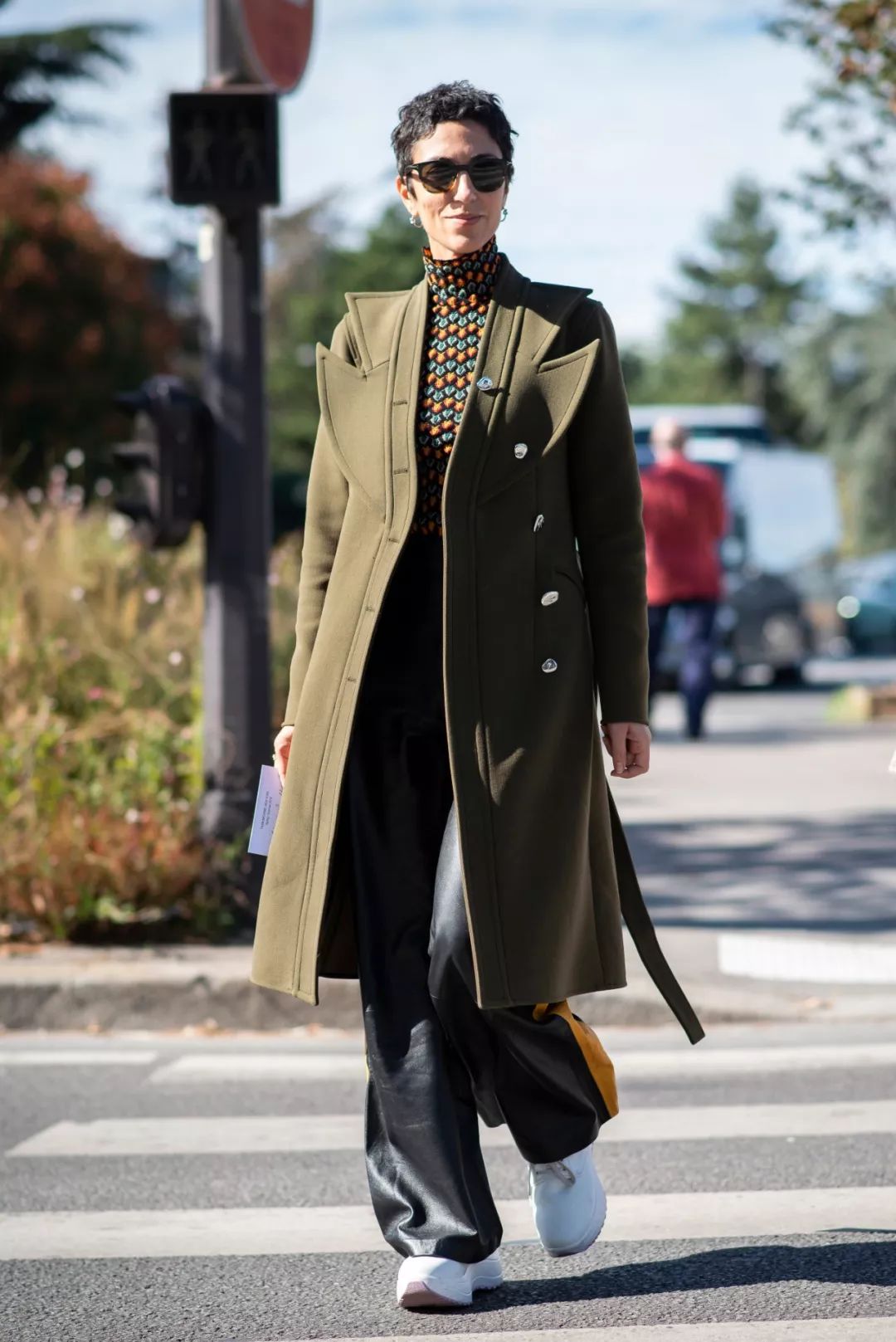 Another advantage of army green is that there is no need to worry about matching. The items in your wardrobe, such as BCG, white, black and Curry, are all its good friends.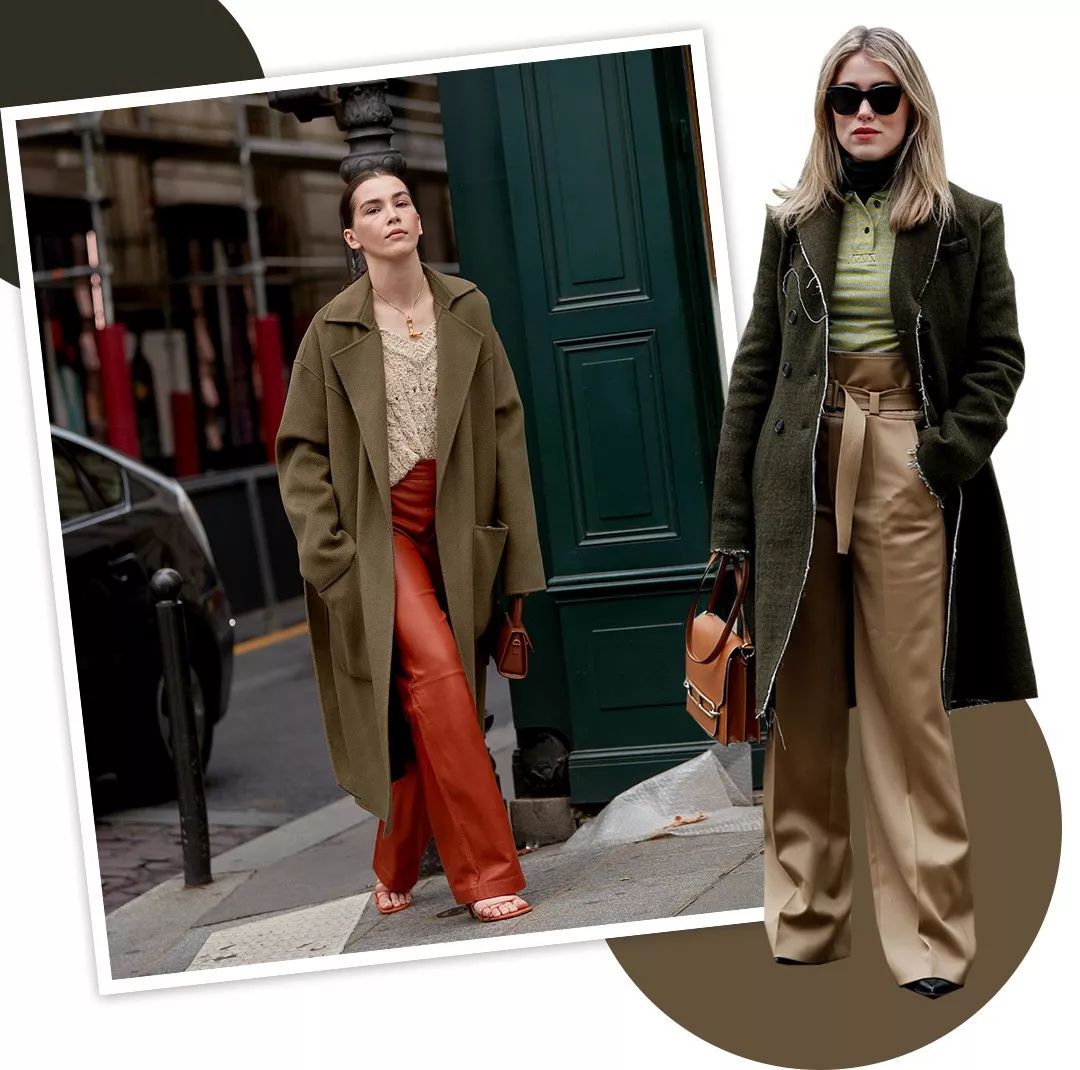 In addition, the army green is very friendly to Asians. Even if you are an authentic yellow skin, you can also wear an independent and gentle temperament with the Army green.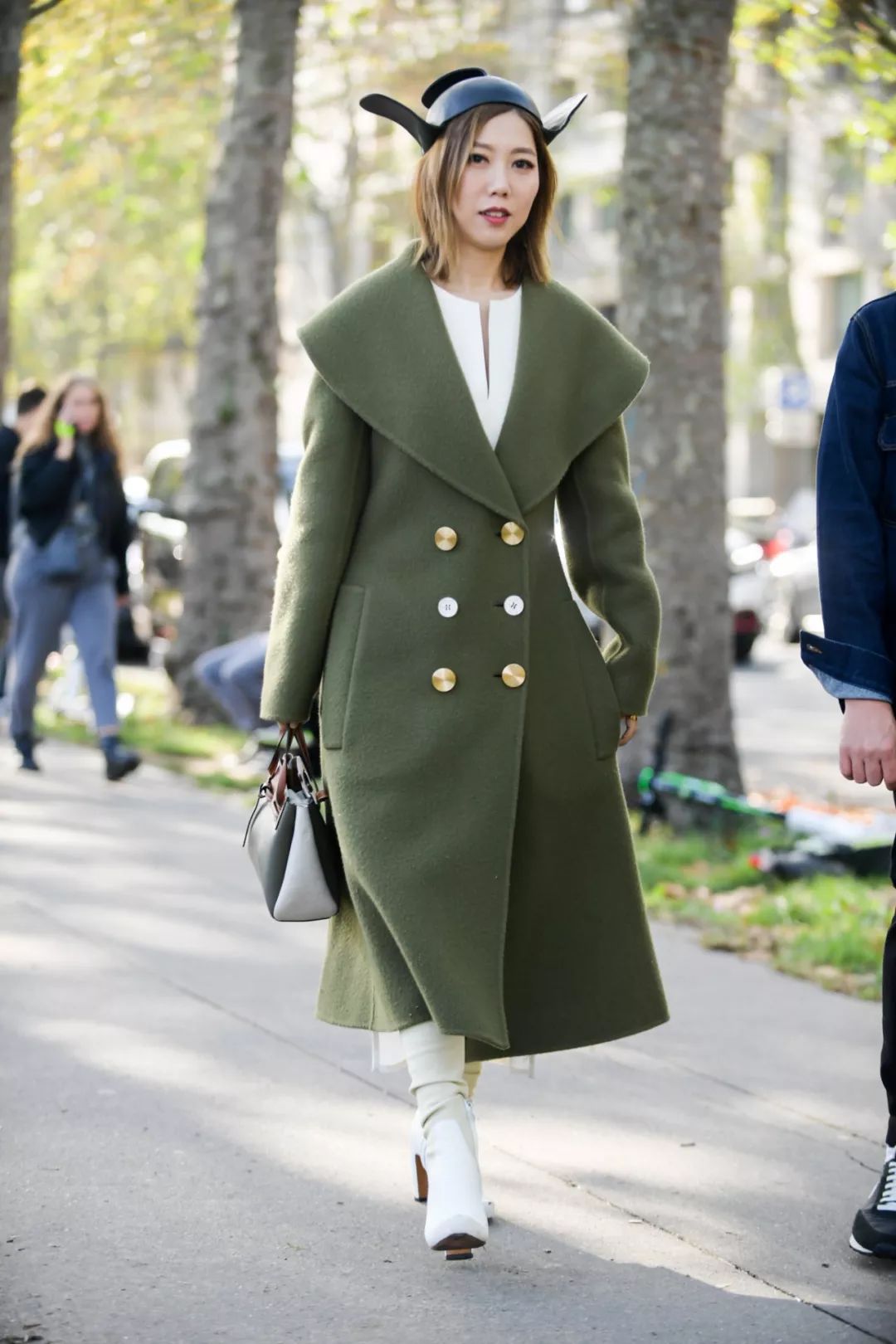 ---
Girls' pink color
When it comes to pink, people can naturally think of "girl feeling". To be responsible, no girl doesn't like pink, and keeping "girl heart" is the eternal theme of girls.
The 28-year-old Emma Roberts, the 41-year-old Kitty Holmes and the 50-year-old Jenny Lopez are all perfect drivers of pink coats, so don't care about those negative comments such as "pretending to be tender" and "acting cute, it is probably the most romantic choice in the wardrobe to welcome the stirring spring with a pink coat!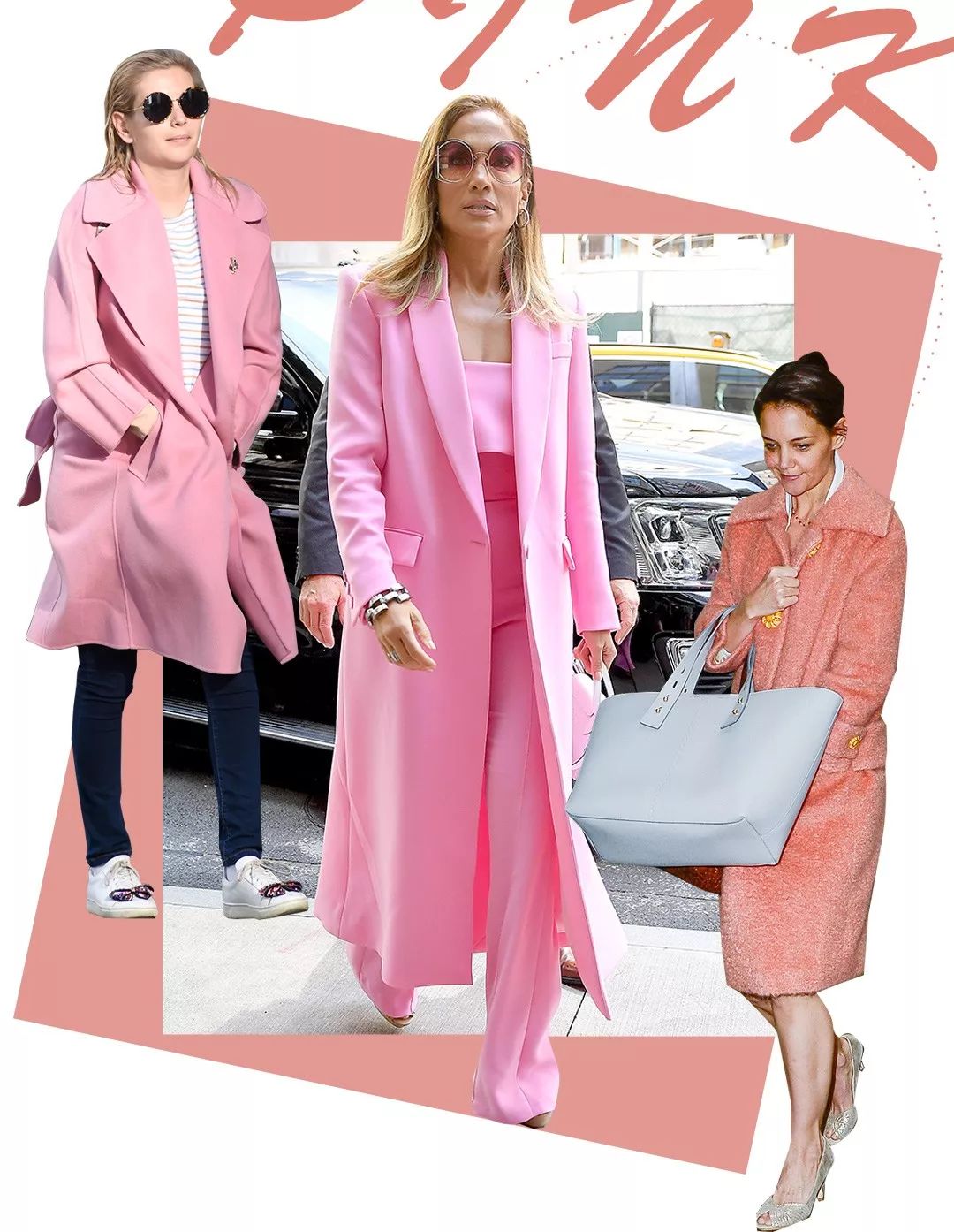 If you want to wear a pink overcoat instead of a local one, it is very important to choose the right color, because there are too many kinds of colors under the Pink system: coral powder, dry rose, naked pink, rose pink and so on …… Each has its own charm.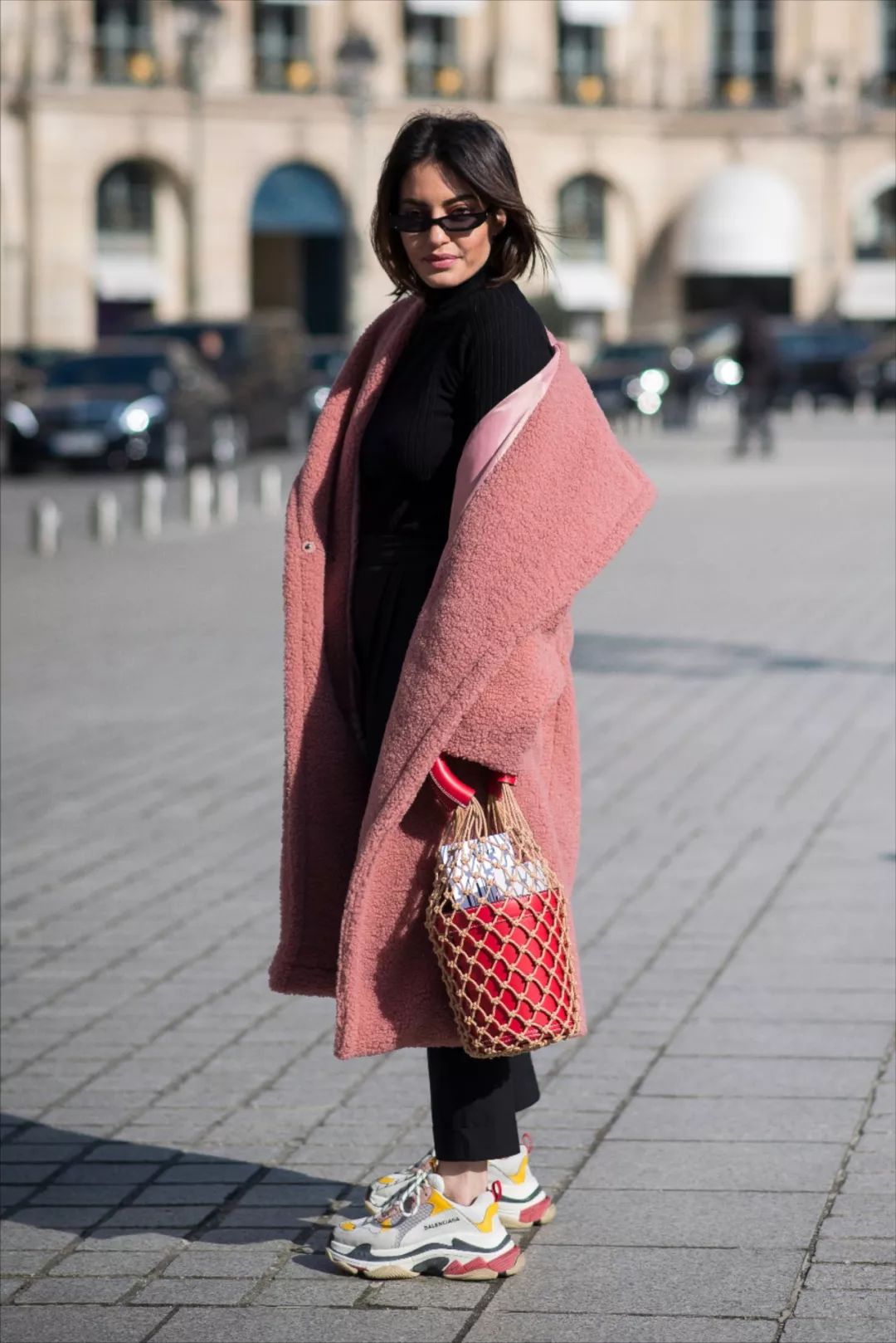 Compared with other dark overcoats, the color of naked Pink is relatively light. Even if the texture of the coat is relatively thick, it will not look bloated visually, instead, it looks light and fresh.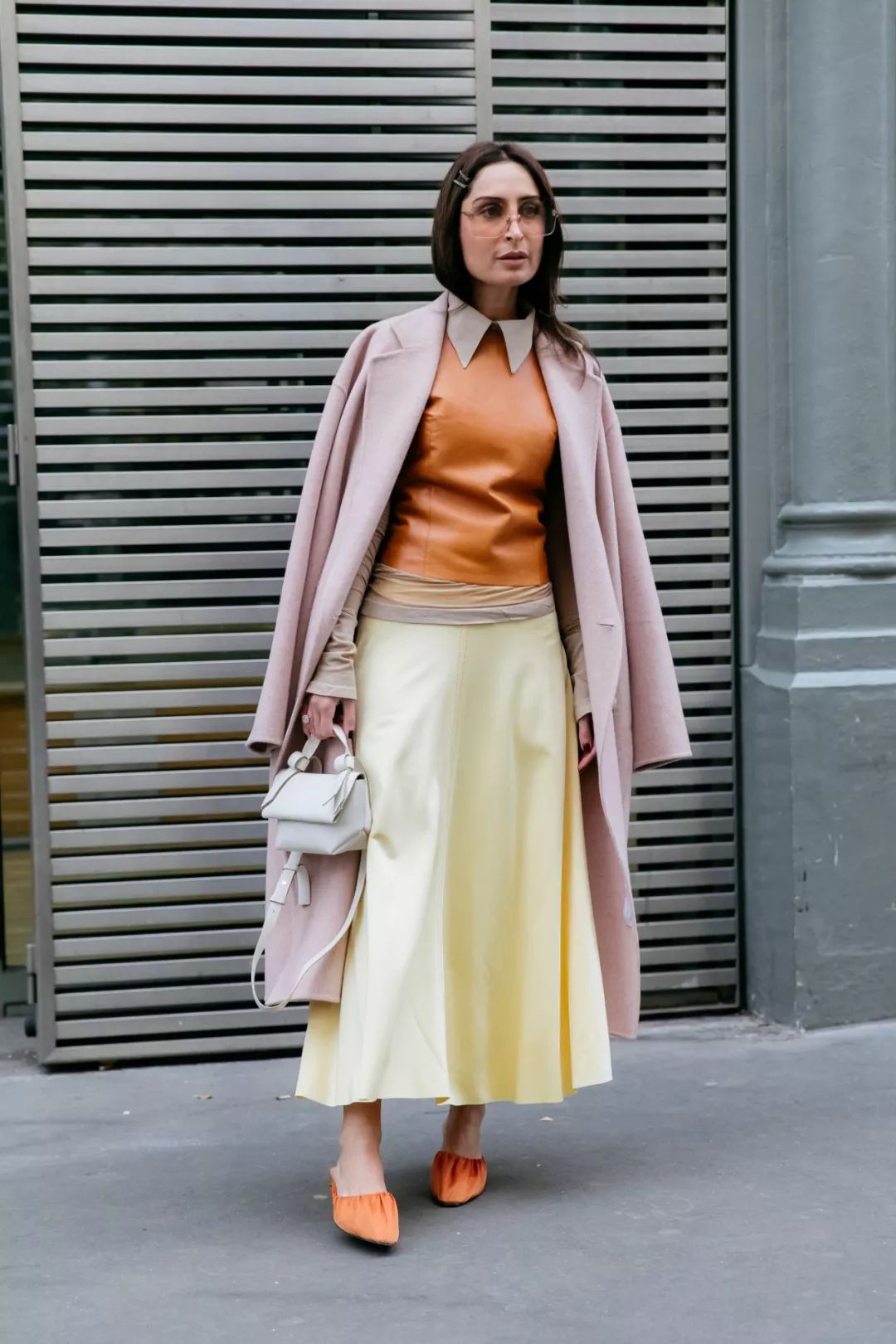 The match between red and pink is very eye-catching, so we should pay special attention to the match. The accessories such as shoes and bags with coordinated colors are the key to success. If your aura is strong enough, everyone will envy your daring to wear and high taste.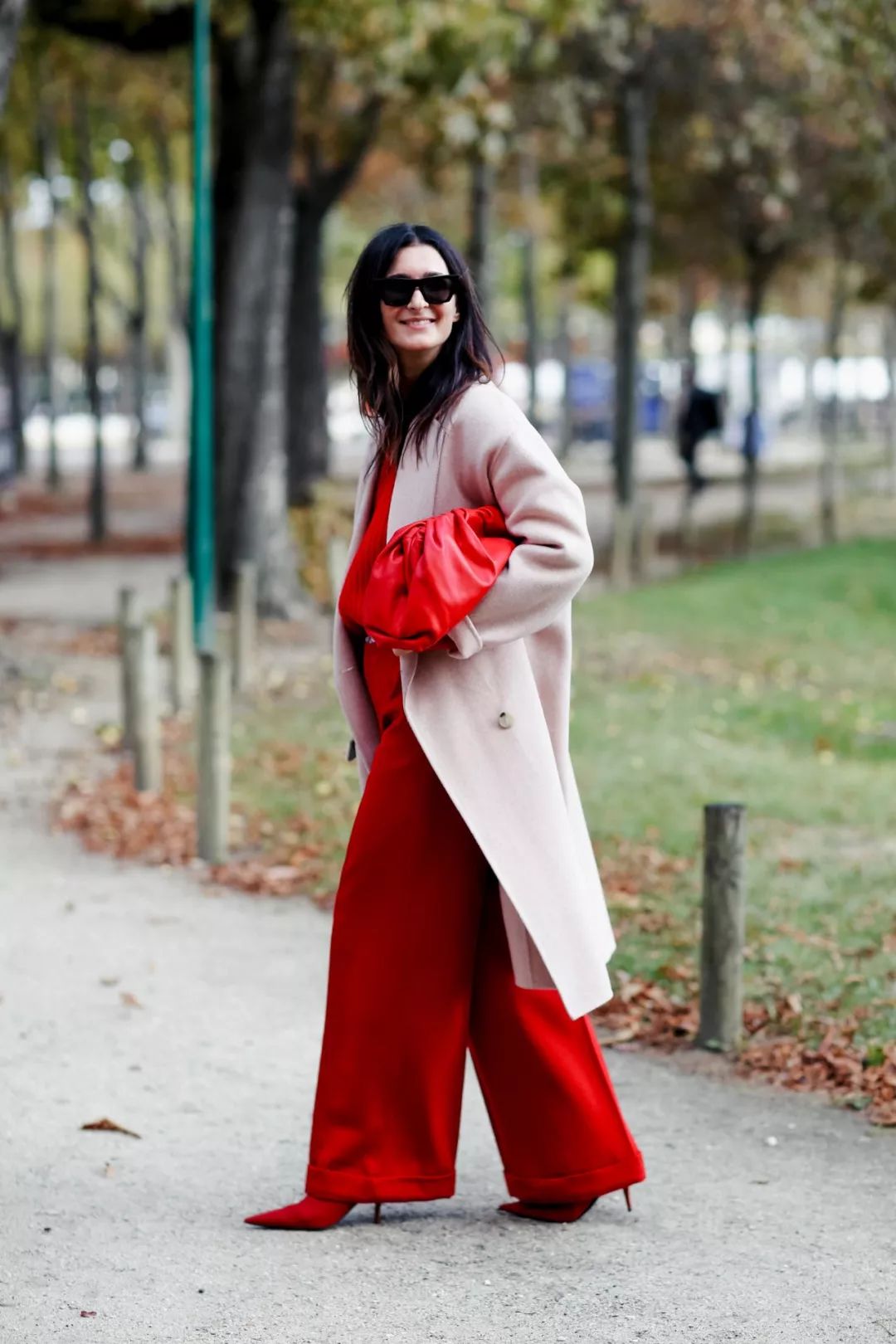 For Asians, try to choose light pink with a little gray tone, which will lower the purity and make you look better. Moreover, it can eliminate the sense of distance visually and make you feel better and warmer.
"Dry Rose" is a kind of pink which can produce familiar resonance and is reliable, bringing comfort and relaxation, and is suitable for girls of any age.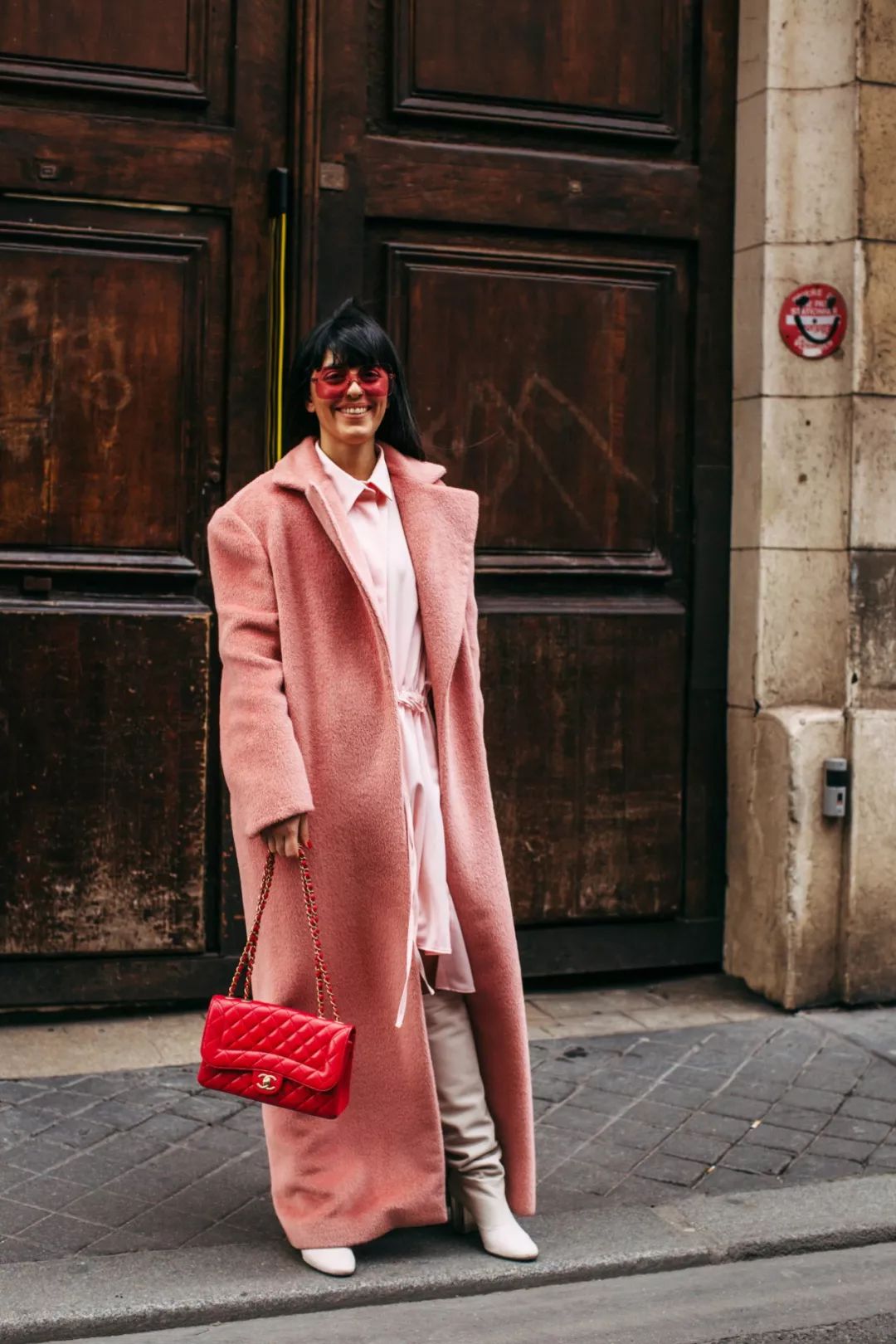 Want soft pink sweet beauty? Add some cool elements to the modeling. For example, Jeanette Friis Madsen, a fashion editor, whose wide-legged pants and sports shoes "combine" the softness and firmness appropriately.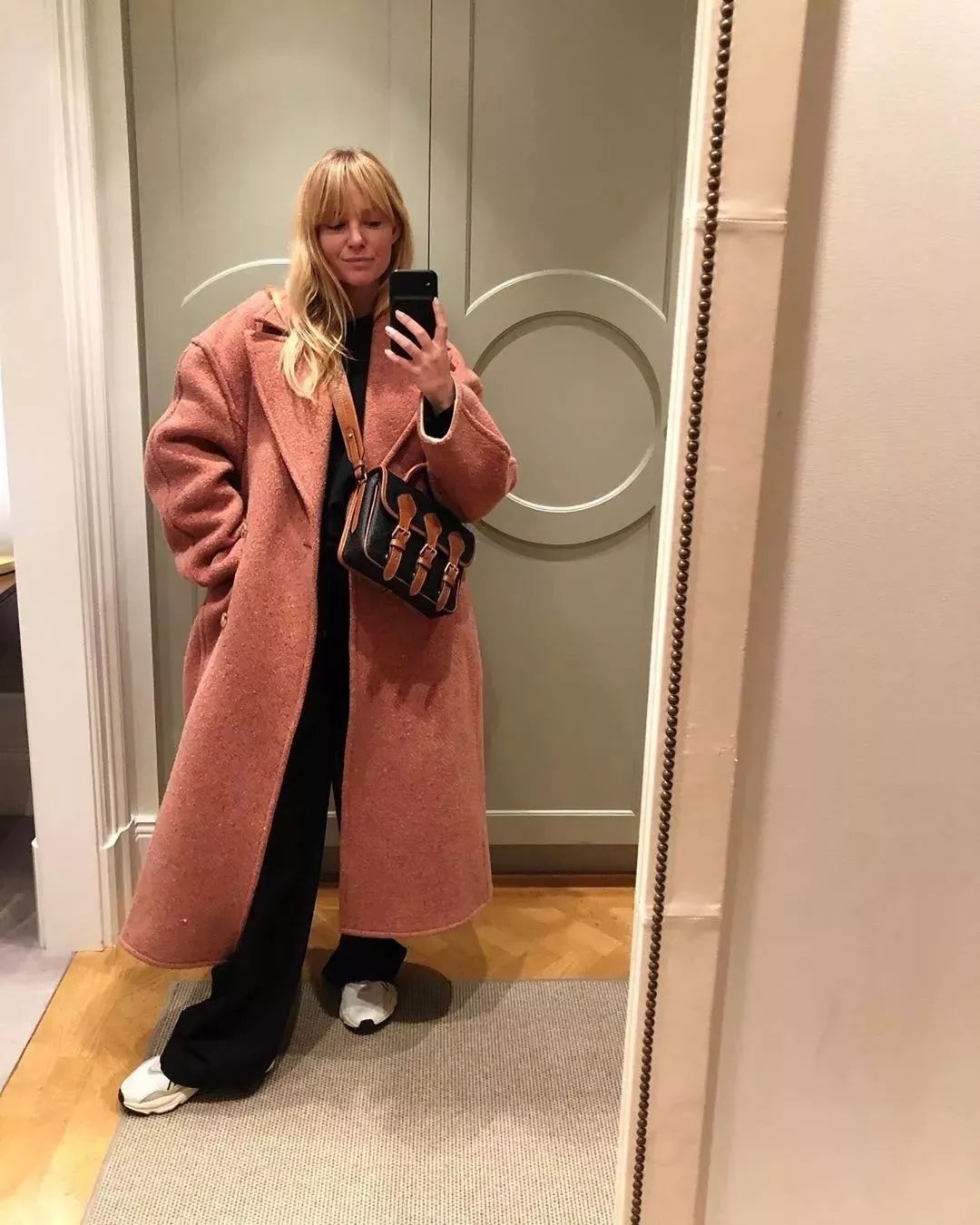 The color matching with macarons is fresh and not sweet, which adds sweet to the monotonous winter anytime and anywhere.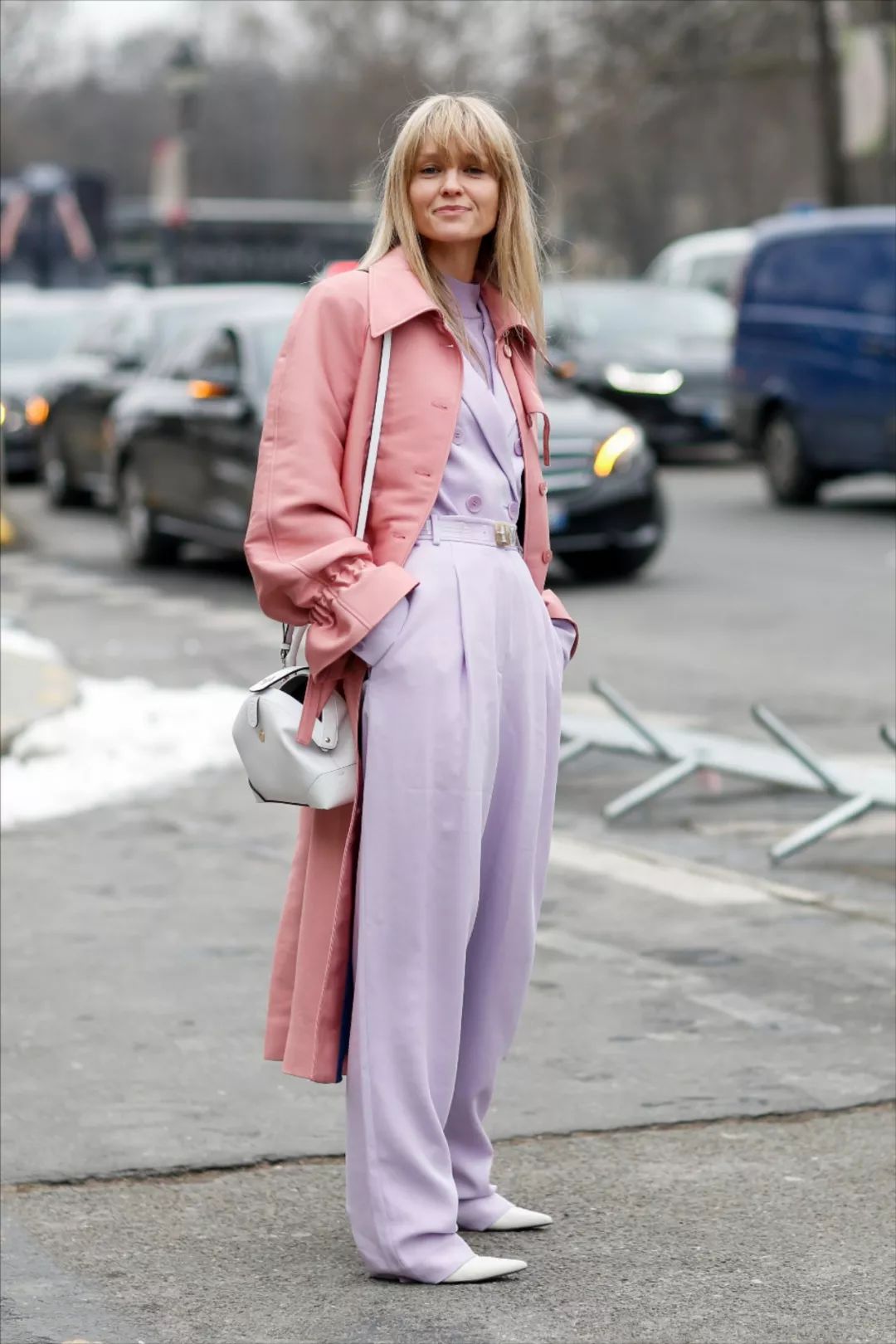 No matter how deep the pink is, it is not suitable for Asian people. It is easy to look dirty. Girls with black skin should be careful ~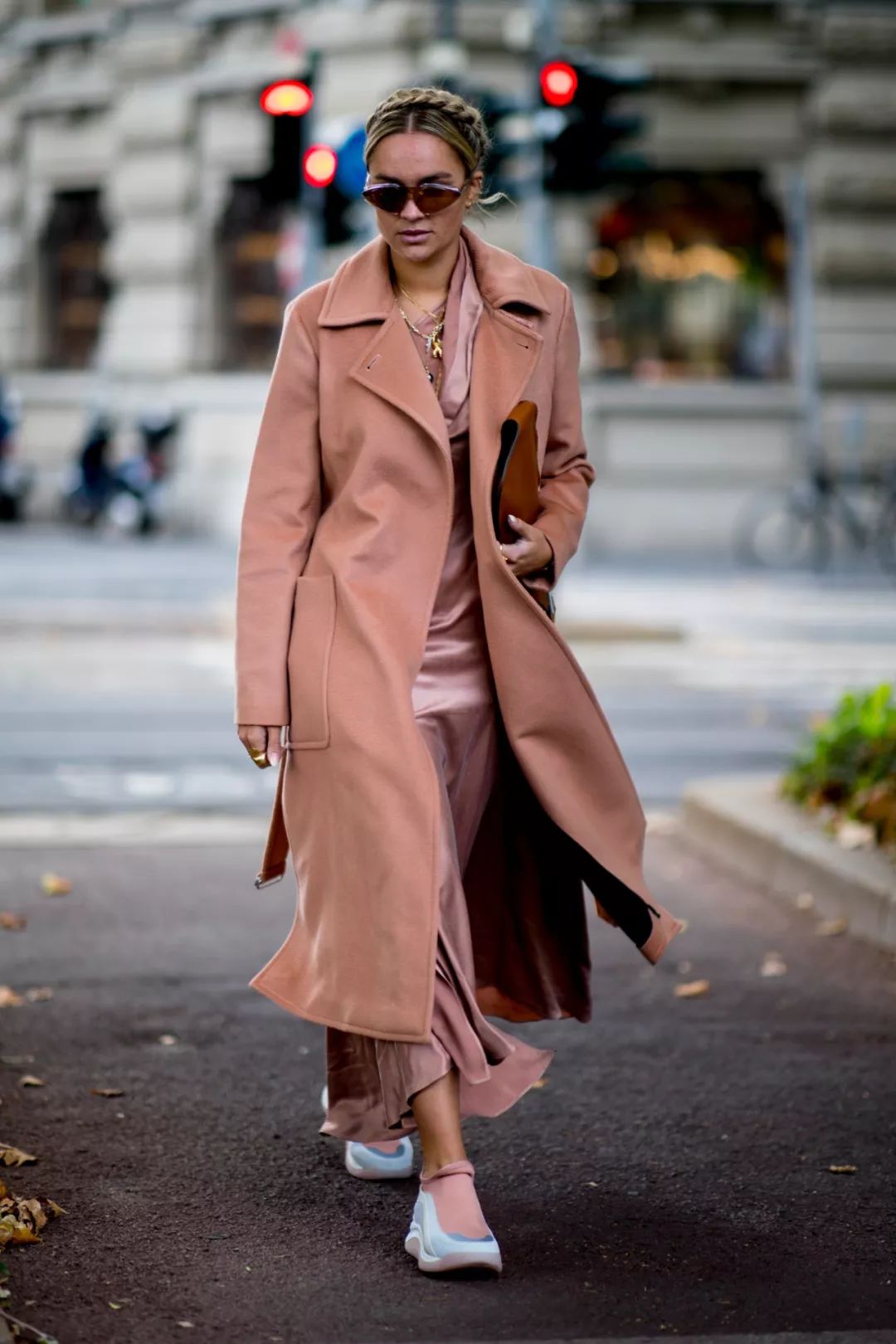 ---
Passionate Flame Red
Every festival, everyone likes to put on a happy red picture to make a good look. In fact, in the changing fashion world, red is also an enduring classic color. Christian Dior even regards red as "the color full of vitality and luck, the color of life !"
Princess Megen once wore a red coat, and the red color made her whole popular color white and full.
The red overcoat can always release the hot and strong of women properly, and with delicate makeup, the calm, elegant and confident state is really beautiful.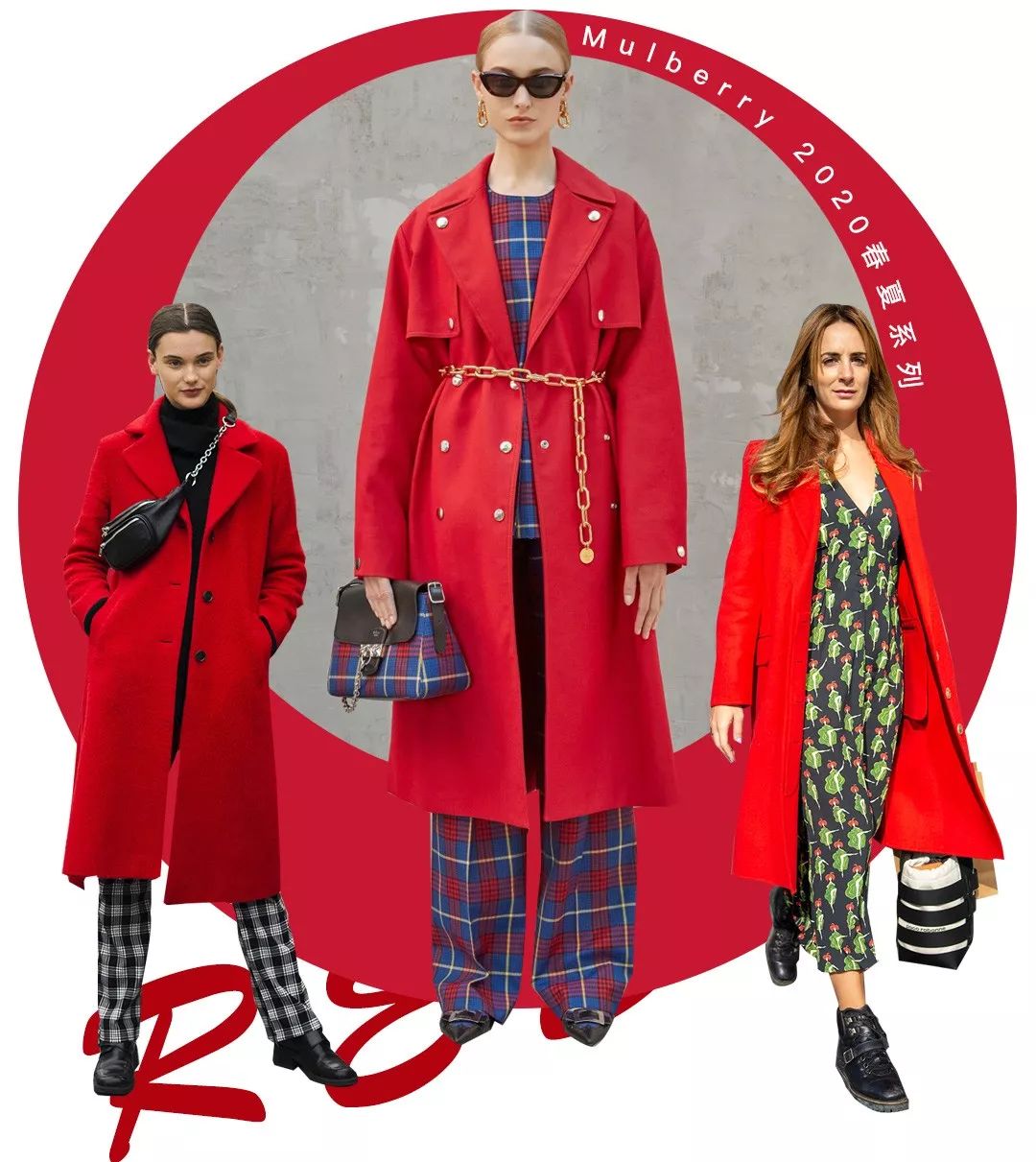 How to match a red coat? It is said that "red and blue have come out of CP since ancient times". Red and blue, as a striking color carried out alone, have an excellent color contrast effect.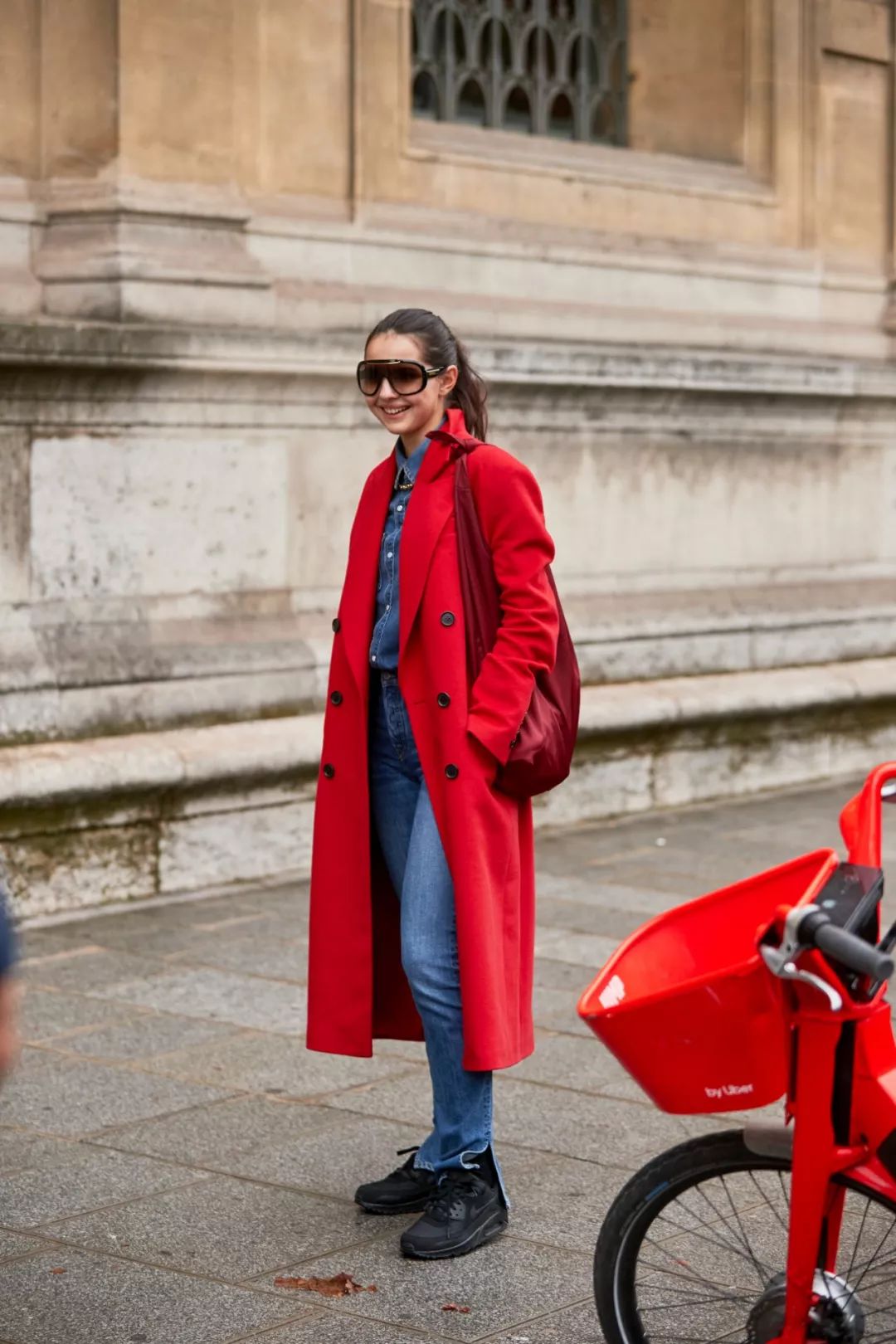 When choosing a red overcoat with higher lightness, you can choose a basic match between the inside and the lower part. After all, if the color is not hit well, it will become a walking drawing board. White or black is a good choice.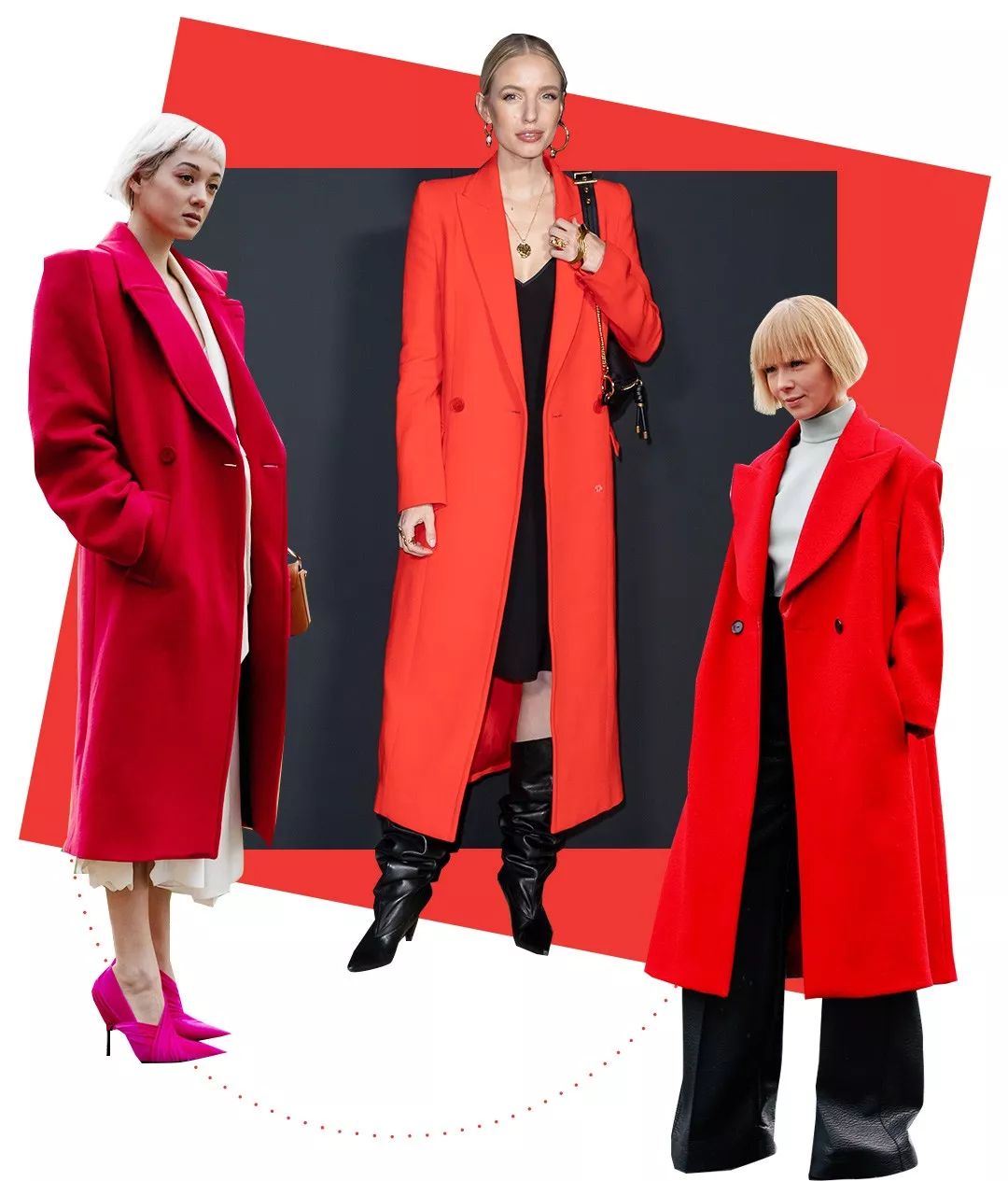 The next color on your body but you want to look like a match master, then you must try to mix and match the layering method by using the difference of texture of different materials.
---
Sunny and vigorous yellow
A yellow overcoat which can bring the feeling of "vitality" can make people regain a light state of mind in terms of color, material and style. However, from the beginning to the end, yellow is a color that is not dare to try in Asia.
But look at the performance of fashion bloggers, is there any change to yellow? In fact, for girls with yellow complexion, when choosing, pay attention to avoid choosing fluorescent color and yellow with too deep hue, which will basically make no mistake!
The matching tips mentioned above also continue here-when you choose a large area of yellow, a black turtneck sweater must be your first choice for bottoming.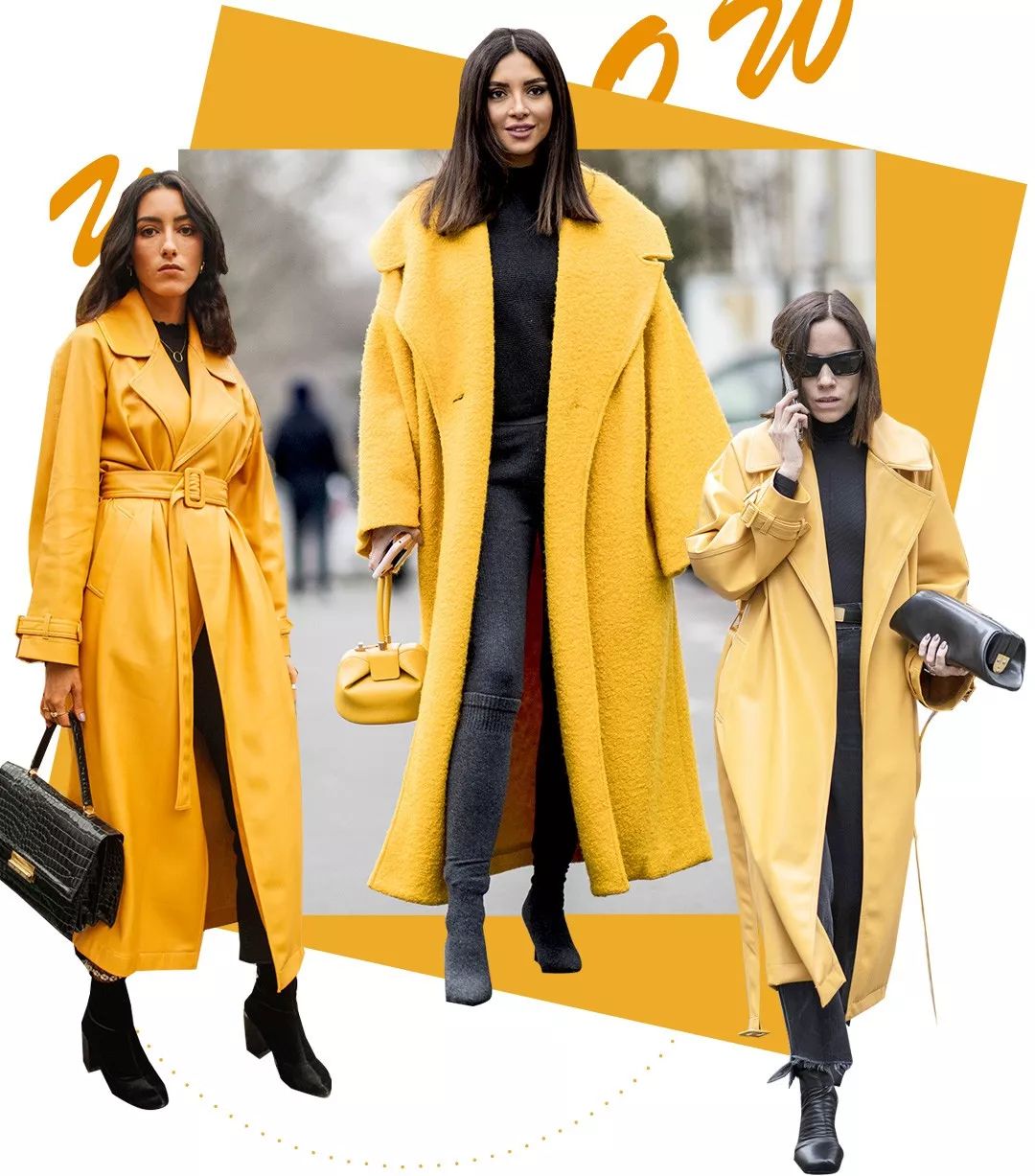 It is said that wearing a yellow overcoat, it seems that there is golden sunshine on your body, warm, bright, cured …… I am going to buy one. I will wear it after this winter.
---
more colors to see
Now that we have decided to give this spring some color to see, then we might as well add a heavy stroke to it and come up with a color-matching coat.
Many people have such a stereotype: if they dress too dazzling at work, they will be easily labeled as "vases". Only when they wear black, white and gray can they be more professional and rigorous, but Amal clooni has proved with his actions that bright and bright clothes may bring more energetic feelings.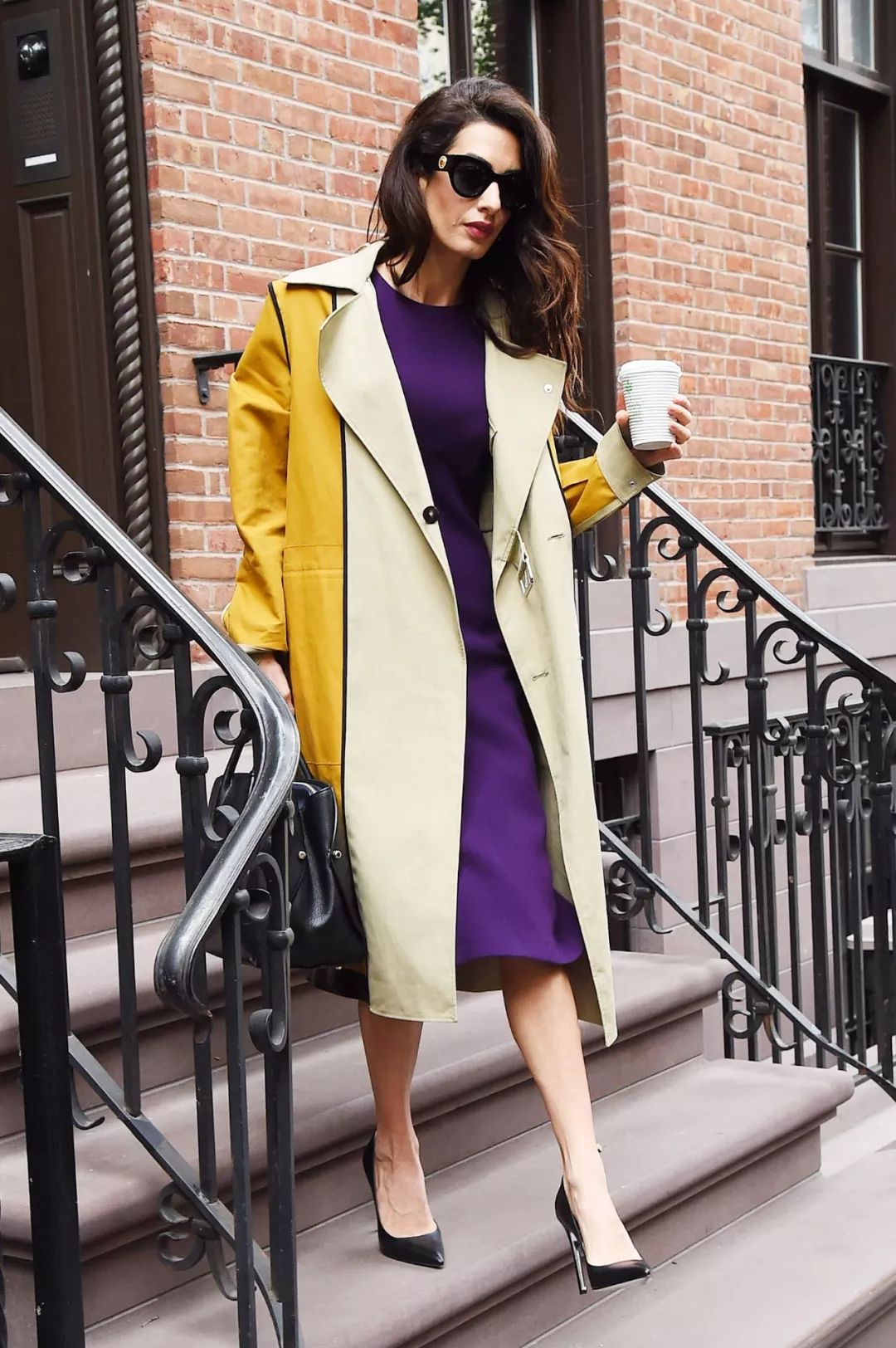 Compared with the simplicity of solid color, color matching coat will be more vivid, and reasonable use of color block collision can also bring a lot of inspiration to the collocation. White and Blue are always classic, fresh and bright.
Contrast color matching will give people a bright feeling in spring, such as Blue + wine red, red + blue. The unique and bold color matching is almost not easy to hit the shirt, but also can show your unique artistic taste.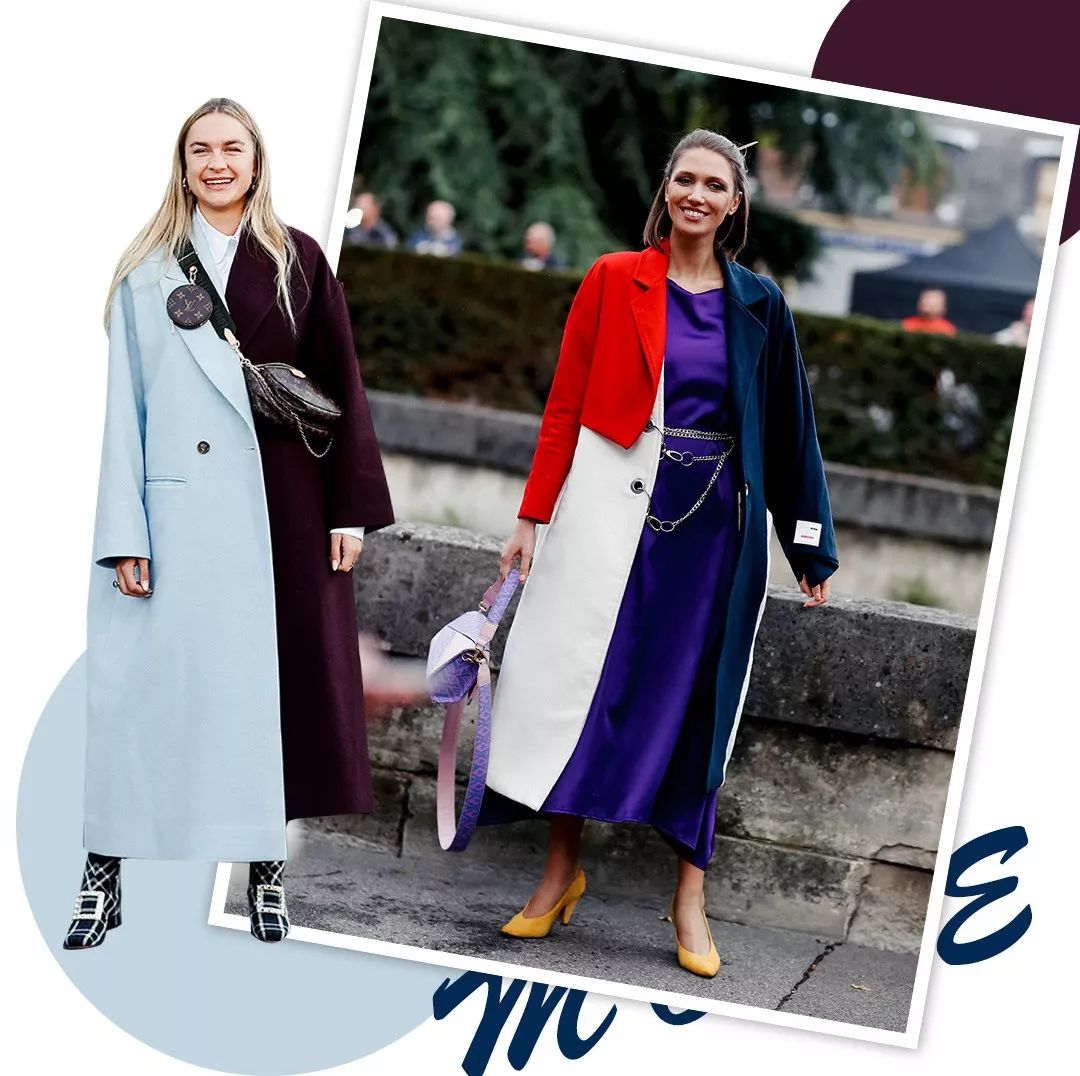 Although this Loewe coat is for color matching, the color used is the basic color of the wardrobe, so it is very easy to match in the color matching period.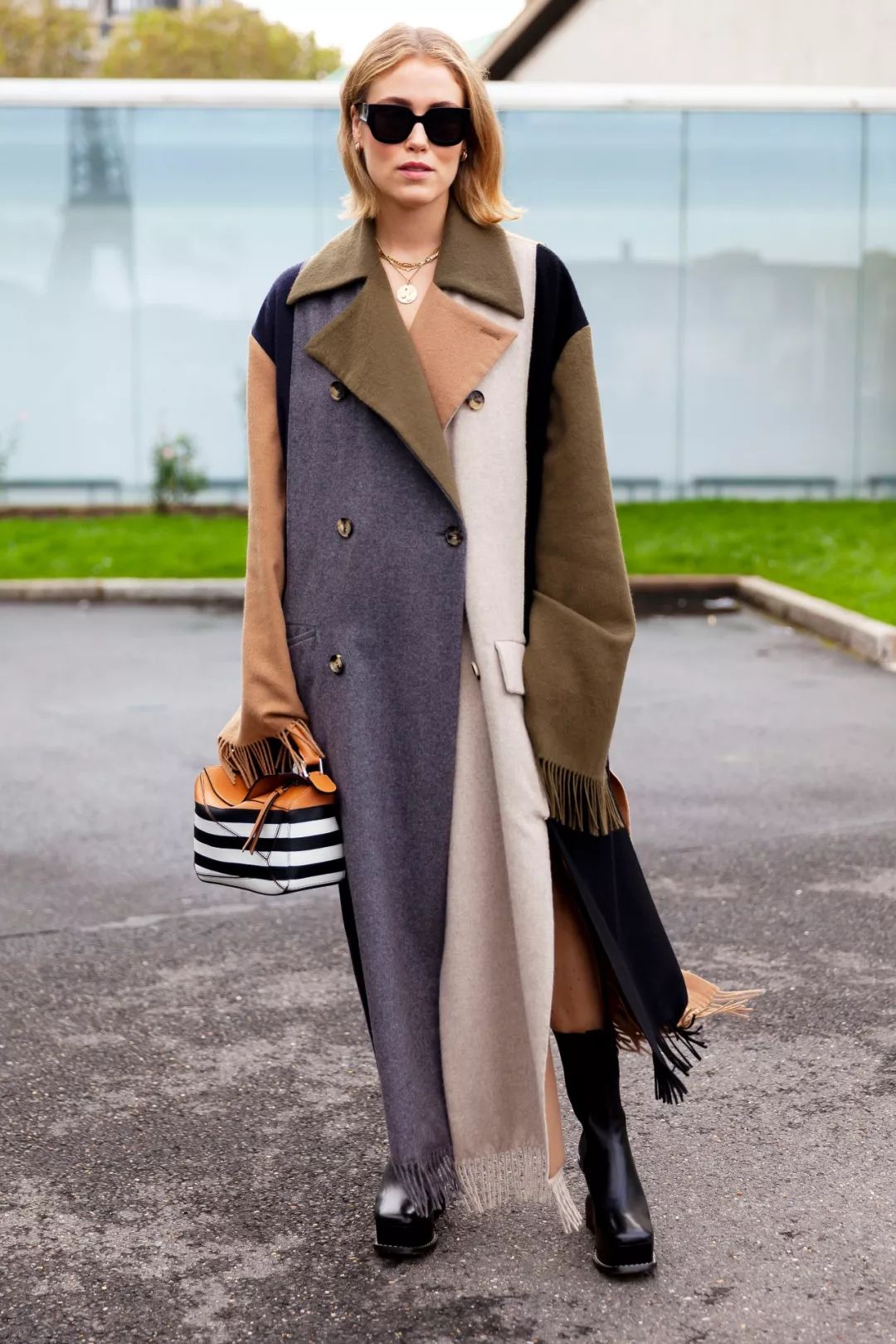 The teddy bear coat, which is very popular this year, is more conspicuous with the color matching design, which is a little more interesting on the basis of originally lovely.
Don't immerse yourself in the black Gray camel any more, let's have something different this spring ~ What is the color of the coat you want to try most this spring? Leave us a message.